You may have everything in your business in perfect order. But what happens when the client-facing part of the team goes into the field (or works virtually)? We at KM Consulting will provide you with an overview of the problems, opportunities, and techniques associated with the client-facing team's benefits and analysis.
What is a Client-Facing Team?
We refrained from using terminology such as the "customer-facing process," as it can refer to anything from how you organize your website to signage at your location. In this scenario, "client-facing team" refers to the part of your team which deals directly with clients from salesmen to account managers and beyond. The client types your people face include an individual buyer, company, manufacturer, distributor, retailer, and others.
You have worked hard to get new clients to consider your business and keep current clients happy with your products or services. New technologies have allowed you to satisfy clients on-location, across the nation, and even the globe. As a result, your team has to deal with all sorts of clients in many different scenarios. In many cases, your client can choose someone else with a click of a mouse.
3 Types of Client-Facing Teams
Each sales organization is different. However, often they are organized into three buckets:
1. Business Development – This branch is dedicated to "beating the bushes" daily to do everything from getting a new customer to closing a sale. They educate clients and justify why your company is the better choice than a competitor. They are the "rainmakers" and are often motivated by quotas, contests, and pure bragging rights. The business development team is often regarded as superstars within the company and may enjoy lavish lunches and other rewards.
2. Client Development – Once a new client is closed, client development is considered the point person for a new customer or account. These individuals must deliver on the promise made by the business development team and recognize and generate up-sell or cross-sell opportunities. Additionally, they may shoulder 100% of the burden of new customer onboarding, customer retention, account growth and often get the blame if a customer takes their business elsewhere. Unfortunately, they enjoy fewer perks and may eat lunch in the standard breakroom.
3. Customer Service – Any time a customer makes contact to do anything from obtaining information to place a service request or enforce a warranty, they speak to a customer service representative. A client may go back to client development should a customer service rep not meet their needs. This part of the team may not even be at your location. They may work from home or even in another part of the world.
The problem with this system is that most company's business development people receive the lion's share concerning professional growth and development, especially on the client-facing side. They attend training, workshops, seminars, and with good reason. Business development is often the driver of top-line revenue growth. However, focusing only on them can be a mistake.
Beware of monotony; it's the mother of all deadly sins. – Edith Wharton
How to Utilize All Client-Facing Teams
It is essential to focus on all aspects of those who face clients on your behalf. This focus should include creating dynamic sales plans, coaching all sales teams in modern research methods, and how to prospect and close new business. You must also know your key performance indicators from the present, not just the past. This process allows you to have the proper oversight of your sales organization and move them in the right direction. Improving and analyzing your client-facing teams is one of the best investments your company can make.
Tools for Analyzing Client Facing Teams
There are tons of tools for analyzing your team. We have previously discussed the testing done by TTI Success Insights. They offer a multi-science approach and beyond for those interested in sales training for business. They offer a DISC profile that measures four core behavioral tendencies and how to build trust with clients. It specializes in how your team can get into your client's world and blend with their behavior to understand and meet client needs. It is a natural approach that demonstrates how to adapt to different types of prospective and current clients.
Setting goals is the first step in turning the invisible into the visible. – Tony Robbins
Conclusion on The Benefits of Analyzing Your Client Facing Team
These are just a few of the steps to identify the needs of your sales team to reap the benefits of higher new sales and/or better repeat sales. Remember that you can improve your client-facing team with the help of an experienced professional. Remember to focus on your entire team, not just the ones who get all the glory.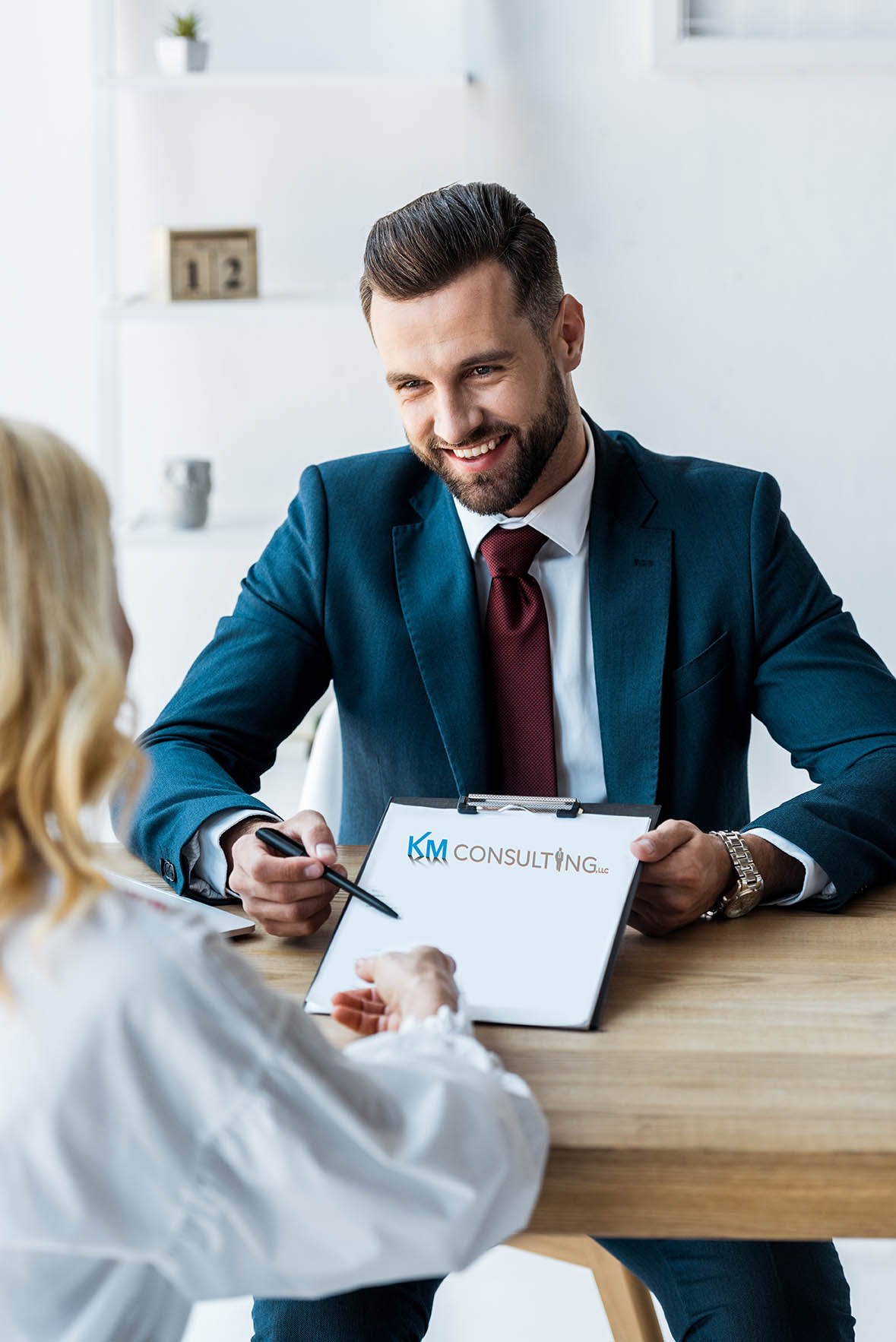 Building a highly productive team is difficult. Fortunately, KM Consulting can provide tools and expertise to help privately held companies. Here is the first step.
Schedule a Consultation
Use this form to schedule a consultation. We'll contact you to discuss some dates and times.