Create a Team of High Performers
KM Consulting is pleased to provide Topgrading. We understand that the ability to create teams of high performers is undoubtedly the single most important leadership skill, regardless of the size of the business. From CEOs and all C-suite executives to local, small business owners, hiring mediocre performers is constantly cited as their biggest challenge.
And with good reason. The cost of a bad hire is detrimental on many levels, from the investment in training to the potential for eroding the culture of your company. Or things like lost revenue opportunities and client/customer good will.
Like many companies, you have a mixture of talent, and your marginal performers cause you the most frustration. You'd like to spend more time helping your high performers achieve even more, but chronic low performers take up too much of your time and your high performers' time, dragging down your entire organization. You value talent, you really do, but bad hires are your biggest recurring business headache.
Does this sound familiar?
You try to replace low performers, but it's frustrating because:
Recruiters present too few quality candidates
Resumes are too often full of hype
Your competency and interviews give you too few valid insights
Reference checks are frequently worthless
Most of the people you hire turn out to disappoint you
Building a company of people who are highly motivated and great problem solvers requires a top to bottom process, involving every stakeholder and every manager. Ensuring your team is comprised of "A" players, those with drive, brilliance, and determination, is rooted in your hiring methods and why Topgrading has become a dominate concept in successful companies.
If you're a CEO or business owner, Topgrading will get you better results and a stronger bottom line. Hundreds of CEOs say Topgrading improved their profits. And KM Consulting utilizes Topgrading alongside the TriMetrix and DiSC advanced behaviorial assesments.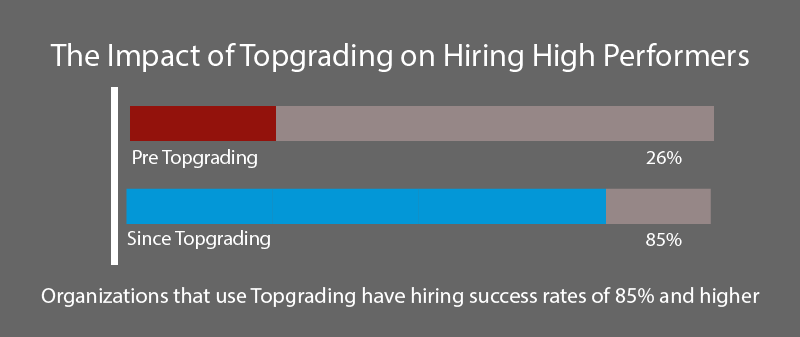 Topgrading was created by a group of professionals dedicated to helping clients build and maintain teams of high performers who fit their culture. Their tools and processes have been honed over 40 years, working with clients of all sizes, in all industries, everywhere on the globe.
Topgrading has helped Global 100 companies Topgrade, but also hundreds of small, midsize, and growth companies. Topgrading consultants:
Conduct workshops and webinars to train all managers to implement Topgrading methods, with special emphasis on the Topgrading Interview.
Conduct the Topgrading Interview for C-suite jobs, where the cost of a mis-hire is sky high.
Assess and coach executives as part of succession planning.
Offer Topgrading Online Solutions (TOLS), our platform that enables trained managers and HR to use the Topgrading methodology and integrates with Applicant Tracking Systems (ATSs).
Offer TopgradingHIRE, our ATS for Small and Medium businesses.
Implementing the Topgrading Hiring Solution can help you achieve unparalleled and unprecedented results for your business. Hiring the right people is critical to the success of any company. Profiles of successful companies almost always highlight how hiring, retaining, and promoting the right people leads to higher earnings, a stronger company culture, and an innovative, engaged workplace. Every hiring manager is painfully aware that bad hires harm productivity, create morale issues, negatively impact the bottom line, and make achieving their individual business goals a lot harder.
Ready to Get Your Company Topgrading?
Give KM Consulting a call. In a few minutes we can answer your questions and give you an idea of the best way to implement Topgrading in your organization.
A Free Trial of the 2-Job Snapshot is available. You can get set up in 30 minutes and it's all automated. Go to www.PrescreenSnapshot.com and ask candidates for your current job openings to complete the 2-job Career History Form even before you talk with them. Spot the high performing, honest candidates in seconds.
When we talk, we can also discuss a Topgrading Workshop. Ideally the CEO and head of HR attend. Then if you're convinced Topgrading is worth pursuing, we can begin analyzing your hiring methods and results, project your ROI, and lay out a plan to roll out Topgrading.