Baseball is both complex and straightforward. It is a team sport but provides a platform for unique individual achievement. And it has definite and inviolate rules that are seldom deviated.
A team cannot score a run in the game until a player has crossed home plate. However, an orderly progression must occur, mainly by a player advancing to first base, then crossing second and third base, before reaching home plate and the player and team awarded a run.
Sounds easy, except for the part where the other team is trying to get you "out" or deny you that base at every step.
In conclusion, you cannot score a run without crossing all the bases and reaching home plate. Furthermore, it must be in the proper order and according to well-established rules and history. And the players involved must know and understand those rules.
The same is true with the art of sales and intimately connected to hiring a great rainmaker. After all, the resume is merely a history lesson and doesn't depict a candidate's understanding of the entire sales process. And sales is a process. You cannot expect to close a deal unless you have crossed the other bases beforehand. Think of it like this diagram:
Unfortunately, too many people active in hiring a sales position fail to understand or respect the sales process. And too many candidates have skated through their prior jobs, trying to game the process or circumvent one or more of the steps necessary to ensure success. You want a candidate with a holistic perspective, which is essential for more efficiency, greater close rates, and higher company revenues.
So how does a small to medium-sized company make the right hire? How do they ensure the person they consider for a sales role is a rainmaker, someone with this level of process knowledge and not just experience?
KM Consulting has a battery of assessments to identify a candidate's understanding of the entire sales process and knowledge of it. Our process allows us to ask the right questions to identify knowledge gaps that a resume won't illuminate. And our assessment results provide a coaching roadmap to help guide and improve the skills of any new hire.
What do Joe Torre, Sparky Anderson, and Tony La Russa have in common with you?
The best major league teams have managers who are crucial to the performance and success of the team. They are responsible for assembling the team, signing players to contracts, day-to-day, and on-field operations, reviewing the roster's talent (and often the health), creating the game lineup and providing post-game performance analysis for each player. They wear a lot of hats.
Does this sound familiar? It should.
Too often, we meet companies that have hired someone to fill a sales role and expect them to be a "fire and forget" missile. But to flourish as a salesperson and to significantly impact revenue, salespeople require goal setting, identifying KPIs, and, most importantly, accountability.
There are many important metrics used in evaluating the performance of a salesperson or a sales organization. Close rates, conversion rates, sales cycle lengths, average deal size, average profit margin, and average reoccurring revenue are a few. And these metrics can't sit in a computer file until year's end for evaluation. A good sales organization constantly evaluates performance, tweaks the processes, lessons learned and shared, and opportunities exploited. Unfortunately, the business owner is often very busy, and this responsibility is pushed to the side. After all, sales are still occurring.
Accountability can only occur with a routine evaluation process and supervision. Too many company-paid lunches? Few to no meetings on the calendar? Is the company not achieving the expected revenue growth? KM Consulting can help coach the owner to become an effective and proficient sales manager. Some companies retain us to provide the role of sales manager, especially where the owner or manager doesn't enjoy "playing the bad guy" when oversight or discipline is needed. Outsourcing to a consultant on a part-time basis is often the right approach.
That part where the other team is trying to get you "out" or deny you that base at every step.
Corporations and businesses have secret weapons in the form of gatekeepers. In addition to their primary organizational duties, secretaries, administrative assistants, and front desk clerks are tasked with protecting the boss's time. They are terrific and keep cold calling salespeople at bay, pretending they are interested in what the salesperson is pitching and promising whatever it takes to end that call.
A great salesperson understands this, perhaps even can relate to it. It's a demanding job, but so is getting an appointment with the actual decision-maker. Furthermore, they understand how to navigate the gatekeeping process with creative approaches to lubricate that path while identifying a safe, unintrusive way around it. But how do you know your sales candidates possess this perspective?
KM Consulting can test for that.
When confronted with the responsibility of researching companies that might be considered low-hanging fruit, what tools or insights might improve the salesperson's batting average of getting the appointment with the decision-maker?
KM Consulting can test for that.
Have you ever known a salesperson who could generate many appointments but enjoyed few closes? This individual might be great at research and excel in product or service presentation, and their follow-up to answers to questions might be superb. You'd probably want to avoid such a hire or understand how to recognize the barrier to success and train beyond it.
KM Consulting can test for that and can coach a path to success.
Play a new game every day – In sales and in baseball each day is a reset, an opportunity to put another check mark in the WIN column. The best ball players watch video of their own performances, looking for ways to improve what they did in their last game. The most successful salespeople do the same. A great salesperson doesn't need a video to review recent performance; there is data that shows what worked and did not work, allowing them to adapt their behavior and tactics for greater success.
Does your sales candidate apply this level of self-evaluation?
Here is a Mini Case Study
A few years ago, we helped a privately held PEO to hire a rainmaker. The owner had been doing all the business development, primarily through networking, but revenue growth slowed, and his time management became challenging. He ran an employment ad and received over one hundred applications, many of which looked promising from an experience point of view. He held numerous initial interviews by telephone and culled down his list to about twenty.
This company retained KM Consulting to help isolate the real champions from the candidates and create a skill and behavior roadmap for the world series of candidates.
Why behavior? It is not in the company's best interest to hire someone who has the proper experience and tactical skills but doesn't align with the company culture. EG: hiring someone who loves helping others can be a vital attribute in sales but offering them a commission-based compensation package may not provide the expected motivation.
KM Consulting can test for that.
In this example, the owner had a favorite candidate solely based on the candidate's personality and price tag. One of our online assessments indicated that this individual possessed an excellent blend of skills and a developed sales process perspective. However, despite being a solid researcher, a fearless prospector, and adept at presenting the company's services, he was awful at asking for the order. Although this is quite common, it is human nature to avoid rejection, especially when you feel things are going well.
With the analysis of the completed assessment, KM Consulting created a training program customized for this shortcoming that would ensure the individual's development. In addition, we also created a coaching plan so that the owner could successfully manage the salesperson.
The investment in terms of time and capital is quite reasonable, and the return on investment is easily measured and quantified.
To conclude
In baseball, a batter swings a wooden bat with a two-inch hitting surface and tries to contact a dime-sized area on a ball traveling ninety miles per hour. That's simple when compared with the research, messaging, calls, emails, meetings, lunches, networking, and presentation skills required to close a sale.
In baseball, the result is usually a base hit.
But, in sales, only a home run will do.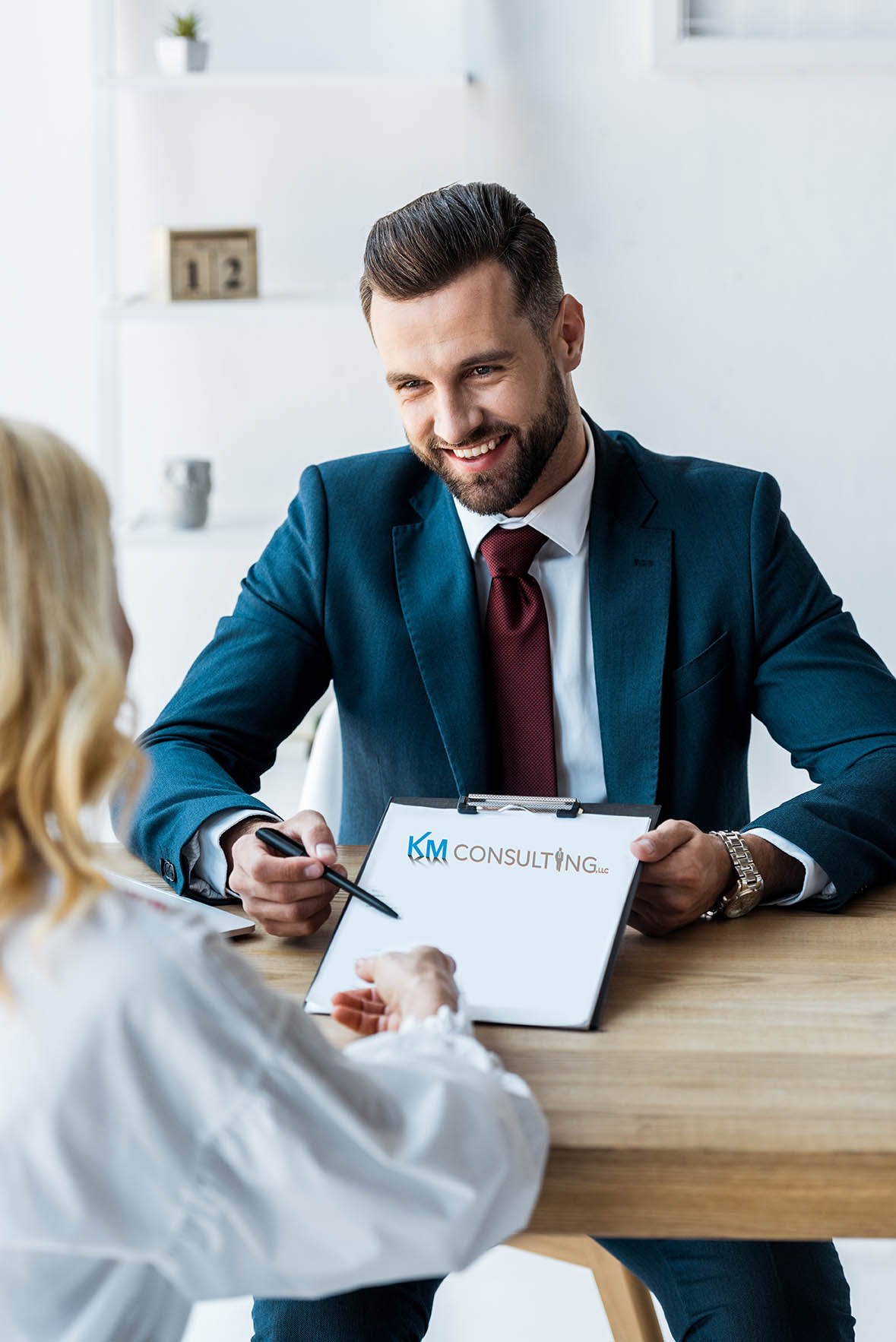 Building a highly productive team is difficult. Fortunately, KM Consulting can provide tools and expertise to help privately held companies. Here is the first step.
Schedule a Consultation
Use this form to schedule a consultation. We'll contact you to discuss some dates and times.