Here's what a few of our clients have to say
"You know that person who you can go to with ANY business question? From getting started to the most complex problems, people skills to creating & implementing the best systems? In my life, that's Jim Sandler. Working alongside Jim is like having the answers to the test."
Rick G.
"Acknowledging your business, your team and yourself as a leader needs a jump start or renewed accountability can be daunting facts to admit. Finding and trusting a business consultant to invite into your business and your team is equally daunting. We were lucky to engage with KMC Consulting and find Jim. The coaching and consulting KM Consulting directed was what we needed to do for the organization and our team in order to maintain the right talent and focus on growth."
Kelly A.
"Jim Sandler delivers business training in a professional manner and he is always extremely helpful. Jim's strengths are his communication skills, patience and depth of business and personal development knowledge. I value the time that I work with Jim and continue working with Jim towards helping entrepreneurs and business leaders grow and prosper."
Tina C.
"Once I saw how quickly and deftly he identified my challenges and created and proposed solutions, I realized that bridging knowledge from industry to industry was his specialty."
Marigene K.
"Please let me update you on my friend and colleague Jim Sandler. Jim specializes in helping businesses make more money with large margins.  Jim has the experience, skills and heart to move your business to its next entrepreneurial level.  He has accomplished this for every business who has engaged him over the last 30 plus years.

I do NOT hesitate to recommend Jim Sandler to everyone who is ready to move their business upward and onward. So what are you waiting for — get  started with Jim today, implement his recommendations and your life will be better tomorrow. You will get so much more than outstanding business enhancements. You gain a friend!!!"
Vern S.
"Jim Sandler has helped make my business better. His wit and no-nonsense approach makes him easy to work with as he helps me get to the next level with my company. I've learned more in the few short months that I've been working with Jim than I did over many years working in my industry.
Jim took the time to listen to me and understand how I operate. He has helped me identify my business goals and challenges, arriving at excellent solutions that I am implementing.

Jim offers intelligent solutions for the strategic planning of your business. Whether you are a start up or a seasoned business owner, Jim has the knowledge and experience to come alongside you and guide you into right decision-making and best practices, giving you the tools to succeed."
Janeen V.
"Jim has a vast and seemingly endless knowledge, especially in the areas of process improvement. His efforts have helped my company reduce unnecessary costs and that has had a significant impact on our bottom line. It's also nice to have Jim to be my sounding board, and allows me to make better decisions".
John H.
"Just knowing that my weekly meeting with Jim is coming up pushes me to complete the tasks I took ownership of. With Jim's counsel I have a greater focus on the matters that directly affect my bottom line or are part of my strategic plan. I am a better leader because of my relationship with Jim."
Fred M.
"I love the fact that Jim not only holds my feet to the fire, but that he takes the reigns in assuring our sales team in fulfilling their responsibilities in a quantitative and measurable way. He has such a breadth of knowledge and experience and is always willing to share it with me and my team. Having Jim working with my team has had a demonstrative effect across the entire organization."
Susan T.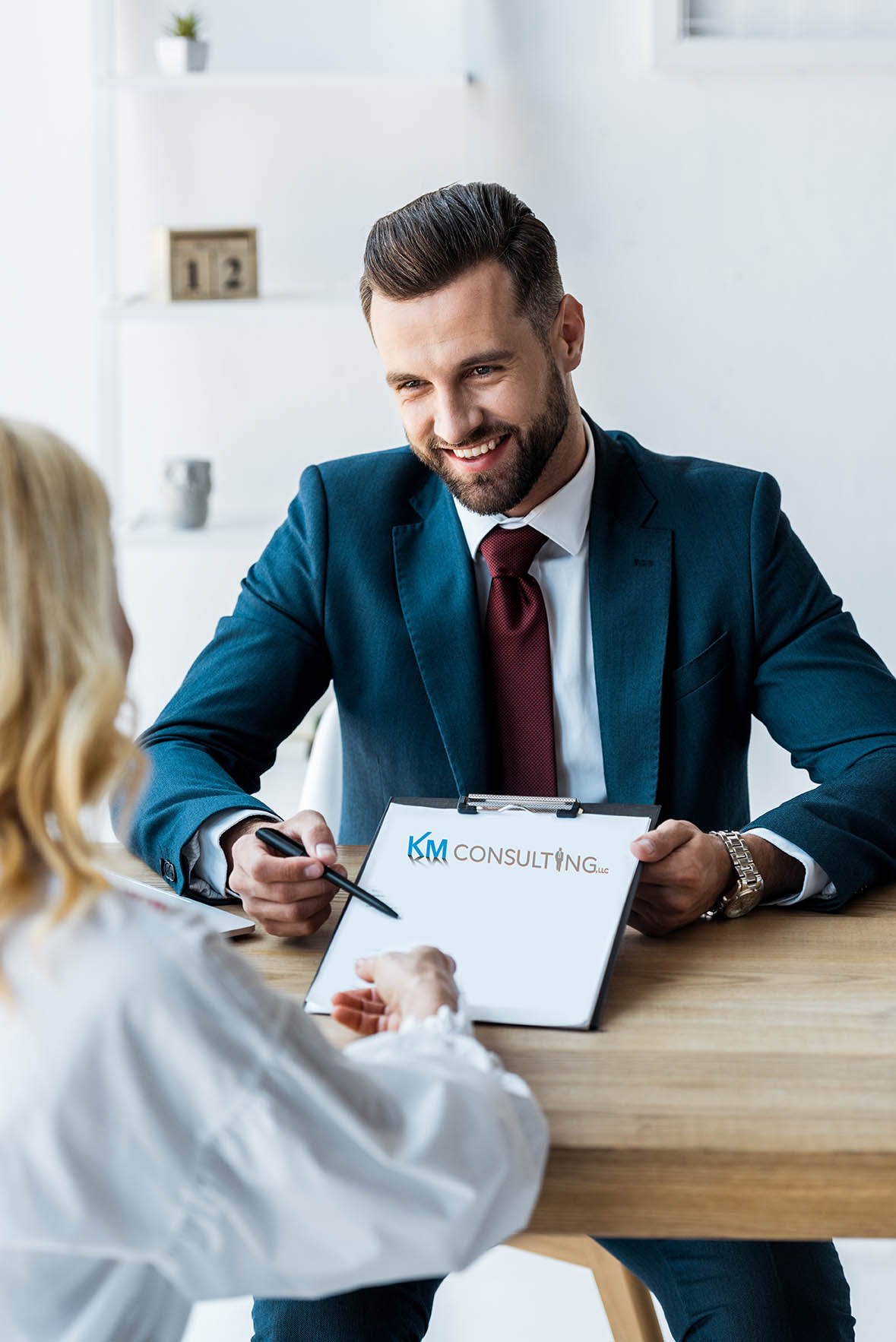 Building a highly productive team is difficult. Fortunately, KM Consulting can provide tools and expertise to help privately held companies. Here is the first step.
Schedule a Consultation
Use this form to schedule a consultation. We'll contact you to discuss some dates and times.